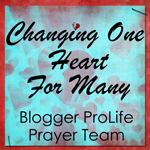 SCRIPTURE FOCUS
Be on your guard; stand firm in the faith; be men of courage; be strong. Do everything in love. 1 Corinthians 16:13-14 NIV
By standing firm you will gain life.
Luke 21:19 NIV
Ways you can get involved~

Focus Petition: Focus on the Family's petition against tax payer funding of abortions.

Be Heard Petition: A petition to protect pro-life doctors that will be hand-delivered to the White House by April 1st.

FOCA Petition: Petition against the Freedom of Choice Act. I've highlighted this before, but if you haven't signed it, please do. There is a grab button for your blog, as well.

Red Envelope Day: This is a project that has been sweeping through cyberspace; you may well have heard of it. Empty red envelopes are sent to the White House on March 31st with a message stating it's representation of one life lost to abortion (click on "participate" to make a commitment). You can go here to order a box of red envelopes.

Check out this article at Melinda's.