Sorry I'm late getting this posted~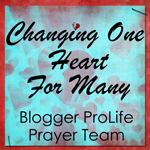 Be encouraged today. Our prayers - our belief and agreement together - are making a difference.

SCRIPTURE FOCUS

The king's heart is in the hand of the Lord;
He directs it like a watercourse as He pleases.
Proverbs 21:1 NIV

Be sure to visit Melinda and read what she shared this week.