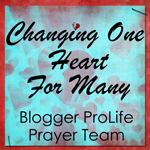 Stop by Melinda's blog and read about some very interesting legislation that is being presented in several different states.



SCRIPTURE FOCUS
For God so loved the world that He gave His only begotten Son, that whosoever believes in Him shall not perish, but have everlasting life.John 3:16

****************************************************************
On another note, I went for my final check up today. Everything looks great, Asher is still in the proper position, thank you Jesus! When my Dr. examined me, she said that she could have easily broken my water, so she didn't do a full exam because she really wants me to hold out until the 16th. But she also said that I could go at any time. Personally, I'm hoping for anytime before the 16th! But God's timing will be perfect!
The kids are on spring break this week, so I probably won't post again for a while unless......
well, you know!